Last week, I really needed to get away. I admit when I run into adversity, the first thought is to run away. The city can be so hard at times. I looked for last minute flights. Every vacation deal left in March, but I needed to go now. I booked a flight to LA. I have been here since Friday. It's time to go back to New York tomorrow. There is no internet access here so this vacation is over.

On Saturday, I sleep all day. My sister kept on asking me, "What's wrong?" "I work hard," I replied. Sleeping is not always a negative sign. Sleeping is a reward for all the nights I stay up creating opportunities for myself so that I can survive until my businesses thrive.
I didn't realize how many people read my blog. Some people ask for more entries. To be honest, I thought my life was boring so I have not been as consistent in my blog. All I do is work and deal with personalities on a daily basis. Dealing with personalities is actually the most interesting aspect of my life. People amaze me on a daily basis. People don't realize that they show all of their cards by the way they react.
So, I have decided. I want to take New York City back. I want to bring it back when we loved to go out in New York City because the music was good! Starting, February 28th, I started a party called, "Secret Society." and guess what?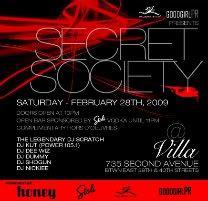 All the DJs are really dope-not DJs who got their fame from doing mixtapes on Protools, not DJs who were once old school rappers and models, not DJs who bite other DJs sets, not DJs who have to rock the mike to get a party popping and have no skill-real DJs, and they deserve our support! I have DJ Scratch, DJ Kut of 105.1, DJ Dummy (Common's DJ), DJ Shogun who is so underrated, DJ Dee Wiz, and me, who is blessed to have the opportunity to open for each of them and is going to treat Saturday like DJ school LOL.
This is what I love, and I enjoy every minute of it! We have to create opportunities for ourselves. If I don't like the party scene and the choices that are available to us, I'm going to work hard to change it until it's the way that it used to be.