This week has been quite eventful. After the "Back to the '90s Event" was over, I felt like a huge weight had been lifted off my shoulders. The following day, I attended the VH1 Hip Honors Ceremony. I received two tickets to attend the event. As usual, I arrived late, and the line was down the block. I approached one of the Viacom security guards, and I mentioned that I worked with Brent Redstone-the son of the Sumner Redstone who owns Viacom, and he walked me right into the event. My first year of law school, I had two jobs. One of which was at a firm with Brent Redstone, and he gave me a job at Viacom while I was in law school.
The VH1 Hip-Hop Honors in 2007 was much better than this year. It seems like "New Hip-Hop" was at the Hammerstein Ballroom, but I just have not gotten into the new Hip-Hop generation yet-I am not quite sold yet.
On Friday, I took the day off, and I partied at the Mercury Bar where there was good music all day, and I enjoyed libations throughout the night! Friday was a good night.
The Hip-Hop Cultural Center invited me to be a guest at the Female Rapathon. Honestly, I thought I was going to be panelist because I have so much to say and feel that I would have a strong impact on the youth, but they wanted me to DJ (as if! lol). After I got on the turntables, I immediately headed to the "The Red Alert Tribute" at Drom located in the heart of the West Village. I, along with GoodGirlPR, assisted The Justo Mixtape Awards with the planning of the event. As I walked into the venue, I reminisced back to 1992 when I heard Red Alert for the first time on the radio. Back then I never imagined that I would be at at an event filled with Hip-Hop legends, and they would know who I am-DJ Nickiee. You can never foresee the future, but you can be proactive in obtaining your dreams. I had the opportunity to DJ because SuperStar Jay had to leave early, but I missed out on a great opportunity. I learned a very valuable lesson that I should always have my DJ equipment (my Serato box and records, RCAs, needles, headphones, extra power cord, extension cord) on me.
Here is a picture of me with my new look (I needed a change):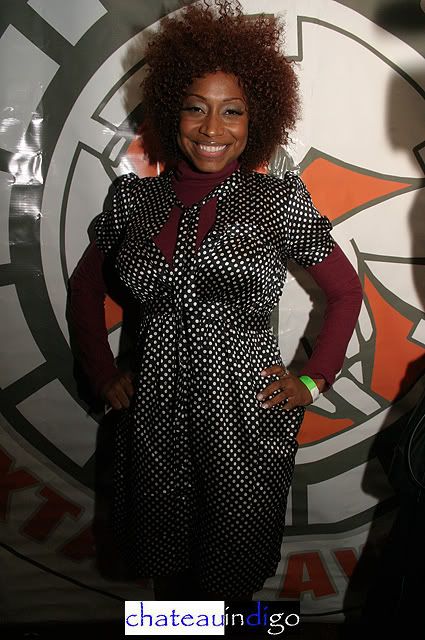 A new element of the blog will include music. This section of the blog will be called, "
In DJ Nickiee Ears"
. As you know, I am a multi-faceted DJ. I can rock anywhere from a fashion party to a hood party so my music recommendations will run the gamete.
In DJ Nickiee's Ears
New Music
Cassie - Unofficial Girl

Ne-Yo & Jadakiss - By Your Side

Music Flashback
Jadakiss - By Your Side
HOT 80s
Animotion - Obsession